How a colour fun run can make you money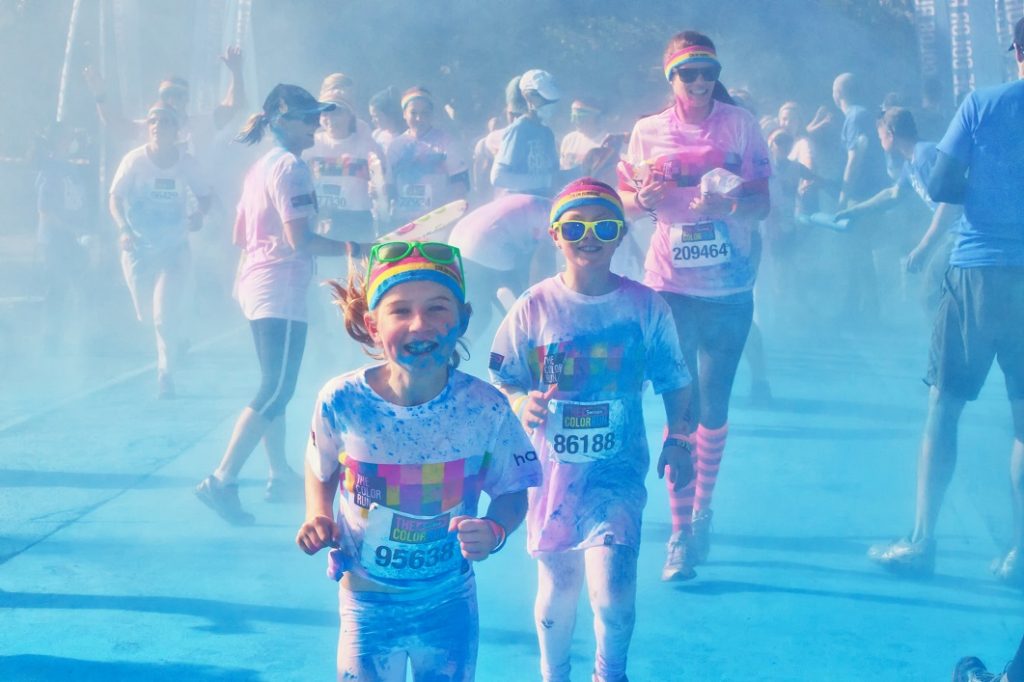 Looking to brighten your teachers, parents and students' days? Then maybe you should organise a colour fun run! What is it though? Gone are the days where a fun run is just a bunch of kids doing laps of the local sports ground. A colour fun run has a lot more focus on the 'fun' part with the addition of coloured paint powders. An adaptation of the Hindu Holi Festival of Colours is a tradition where participants are drenched with water and the brightly coloured paint powders are thrown into the air. This ends in the runners (who are usually dressed in white) being decorated with the powder. These types of school fundraising ideas have become more and more popular over recent years and are something the entire family can be involved in.
Registration fees for your school fundraising events
When you use My School Connect's School Event Management Software for your fundraising event, you will be able to quickly and easily register your colour fun run participants. A registration fee can cost between $5 and $50 depending on the profit margin you want and the overheads you have. This fee will be dictated by things like venue hire, giveaways, coloured paint powder, participation gifts and entertainment. Remember, it is a fundraiser so you need to be able to recover all your costs and make money on top of that for it to be beneficial to the school. You should consider opening registration at least 60 days before the event so that you can have some capital in the bank to pay for incidental expenses in the lead up.
School fundraising events need pledges and donations
If you think of your runners as individual fundraisers, then you may be able to raise even more money for a much needed cause at your school. Runners will be expending a lot of energy and that is something that needs to be rewarded. Ask your participants to reach out to their network for pledges of $5, $10, $20 or $50 for the completion of the colour fun run. Or alternatively people may choose to donate on a lap or kilometer-based quota.
Engage sponsors for your school fundraising events
There are plenty of opportunities for local businesses to get involved in supporting their local school community. During your colour fun run, you will have various stations (start and finish line, water stop, clean up station) that could be prime real estate for retailers or businesses to promote themselves. A nominal fee or donation is asked in return for their signage displayed at the event. You may even choose to have general sponsors that pay to have their names mentioned by the host or MC throughout the event.
Race merchandise and kits for your school fundraising events
Fun add ons like some specially made merchandise or a kit full of helpful goodies for your participants could be something that gives you an edge when it comes to raising funds. Similar to a show bag or party bag, this offering could be something that the kids nag and nag for until parents cave in. Not only will the students get a lot of joy out of it, there will be some souvenirs in the kit that will serve as a fantastic memory for the colour fun run event for your school. Depending on the size of your colour run and how many people will be attending, you can go all out or keep it modest. A kit could cost between $10 – $30, but make sure you recoup the costs outlayed to purchase the items. Have a think about what a colour fun runner will need to make the day even better. They might need an extra t-shirt to wear home after being drenching in water and paint powder or a drink bottle to stay hydrated. Other fun additional items that could go in a kit include:
A towel
Sweat bands
Pens
Sunglasses
Commemorative poster or certificate
Marketing collateral from sponsors
If you have any questions or would like more information about our school event app, please contact us today.