My School Tuckshop
Generation now - get with it!
Welcome to My School Tuckshop, the online ordering system that
makes life easier for tuckshops, parents, and students.
EASY FOR PARENTS
Say goodbye to stressful school mornings, searching for brown paper bags and loose change. My School Tuckshop is an easy to use online lunch system, designed with parents in mind.
SEAMLESS FOR SCHOOLS
Getting your school set up with My School Tuckshop is simple. We do all the hard work for you, including setting up your account, loading menus and providing information for parents!
WHY CHOOSE MY SCHOOL TUCKSHOP
A SMOOTH TRANSITION TO OUR SYSTEM
We provide training and ongoing
assistance to schools and parents.
UNIQUE FEATURES
Check out our innovative tools
for fundraising and healthy lifestyles!
'GET NOURISHED' WITH MY SCHOOL TUCKSHOP
Our certified nutritionist can custom-make
healthy meal plans for students of all
ages using your existing tuckshop menu!
Parents have choice of selecting one of these healthy
meal plans for a day or week, when placing
a lunch order!
Be confident that your students are having
a balanced and healthy lunch, with all the
energy they need to get through the school day!
FUNDRAISE WITH MY SCHOOL TUCKSHOP!
Lots of small donations can go a long way!
It's a new approach to fundraising,
called crowdfunding!
We call it operation CHIP IN! Set a goal,
and get your school community to
chip in when they can!
Our tuckshop ordering system gives
parents the option to CHIP IN by rounding up
their order to nearest dollar!
MY SCHOOL TUCKSHOP POINT OF SALE (POS) SYSTEM
Our POS equipment works seamlessly
with the My School Tuckshop system.
No internet is required, simply sync
at the end of each day!
By scanning a student ID, staff are quickly
notified of any allergies, restricted
products or daily spend limits that
parents have set for their children.
Students and staff no longer need
to worry about handing cash in the tuckshop!
Purchases will be charged to the student's
account using prepaid card.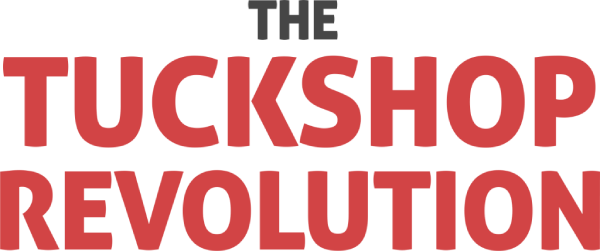 My School Tuckshop is a proud partner of The Tuckshop Revolution, a movement with a mission to modernise and improve Aussie tuckshops.
The Tuckshop Revolution is a free service for schools, which aims to help students develop healthy eating habits, by providing healthy menu options and providing accessible nutritional advice & information.
More Information:
http://tuckshoprevolution.com.au/